How does Printrove charge you?
Printrove has a transparent billing system and processes all payments through the system of credits.

1 Printrove Credit = 1 Rupee.
The Printrove Account stores your balance amount as credits and deducts the B2B pricing Printrove charges for its products once an order has been placed.

You can view your current balance at the top right corner of the
Merchant Panel
as shown in the image below.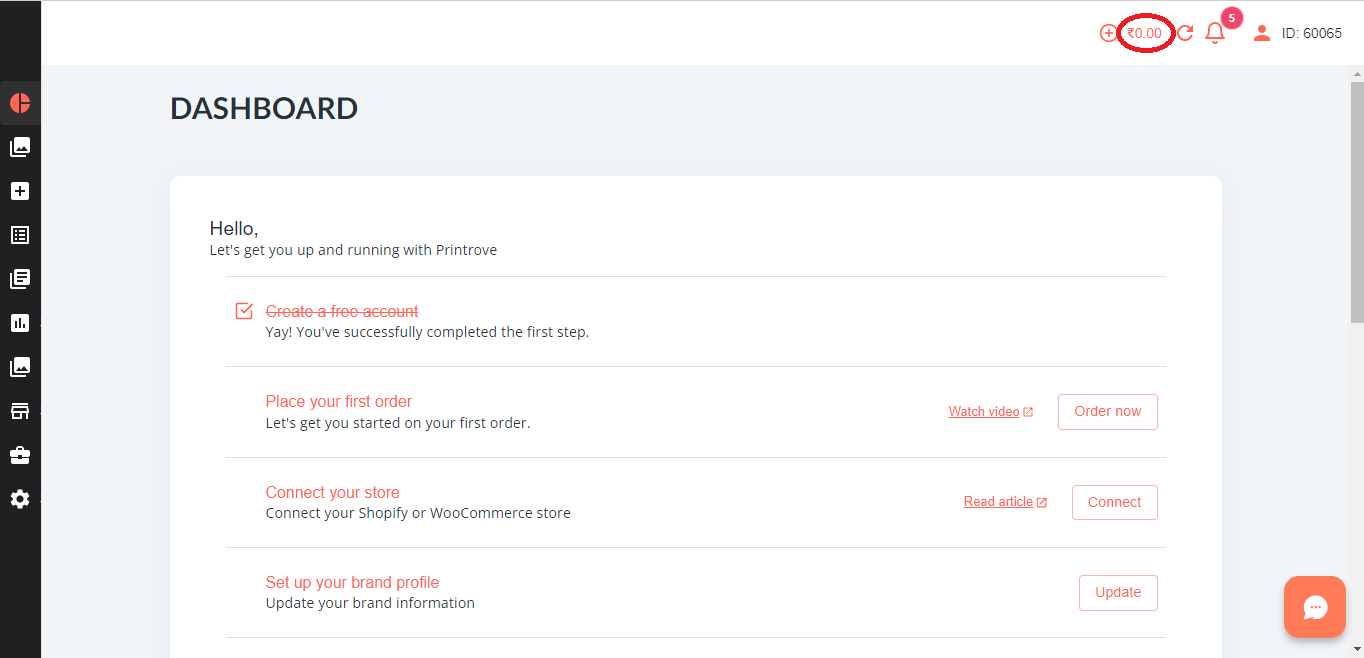 How to add credits?
You can simply
click
on the

icon to
add credits
and complete the transaction. Once the required credits have been added, they can be
utilised
to place orders until exhausted.
In case of insufficient balance, an order cannot be placed. For example, to place an order worth Rs. 500 at Printrove, the account needs to have at least 500 credits. If available, the order will be placed and would enter the Received Stage. If not, you will be required to add the difference in the amount to place the order.


Printrove Credits are non-refundable. However, you have lifetime access to the same.
Related Articles

How do we calculate the pricing of an apparel product?

We calculate the price of an apparel product using four basic components. Base Price The base price is the product price of a plain garment. Printing Charges Printing charges are calculated depending on the area your design file occupies. Currently, ...

How to make a profit with Printrove?

If you are wondering how you can make a profit by using Printrove's on-demand printing and drop shipping services, you've come to the right place! When running a business, profitability is one of the critical factors to consider. Continue reading to ...

How to create an order through the Printrove Product Library?

Adding products to the order The first step to place an order is to add the products. There are two ways you can add products to your order. Creating a new product Load Products from the Printrove Product Library Creating A New Product Here is how to ...

How to edit an order on Printrove?

An order at Printrove includes two segments that can be edited after it has been placed; Product & Shipping details. Follow the steps below to update your order on Printrove. How to edit a product in the order? You can edit a product in the order in ...

How can I place my Amazon orders with Printrove?

There are 2 ways you can quickly place your Amazon Orders on Printrove. Through the Product Library. Place your Amazon Orders through the Product Library in just 6 steps. Step 1: Login to your Merchant Panel. Step 2: Head over to New Order. Step 3: ...